Fuel Sampler FS5051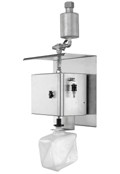 AUTOMATIC BUNKER SAMPLER MARPOL ANNEX VI
DNV APPROVED
TYPE: MO 5051
THIS SAMPLER IS A SIMPLE SAMPLER WHICH CAN BE MOUNTED DIRECTLY ON THE MANIFOLD WITHOUT ANY HOSES. THE SAMPLER IS HANGING ON THE PROBE AND CAN SAMPLE AUTOMATICALLY INTO ANY SIZE BOTTLE.
THE SAMPLER IS SHOWN WITH A FLUSHING TANK WHICH IS DOCKING STATION AS WELL
THE SAMPLER IS PNEUMATICALLY DRIVEN ONLY.
SPECIFICATION:
WORKING AIR PRESSURE: 6-8 BAR.
TIMER (BUNKER TIME): NORMAL 1 TO 16 HOURS
MATERIALS: STAINLESS STEEL AISI 316 CASE AND FITTINGS
AUTOMATIC STOP AFTER SAMPLING
FLUSHING PROCEDURE
SIZE: 35x25x50 CM
WEIGHT: 15 KGS
FULFILS MARPOL ANNEX VI