Bunker Sampler FS7014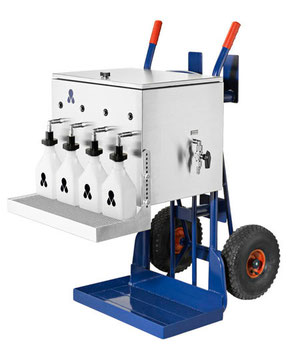 AUTOMATIC BUNKER SAMPLER MARPOL ANNEX VI
TYPE:  MOT 7014
THIS SAMPLER CAN SAMPLE INTO 1-4 TIMES 1 LITER BOTTLES AT A TIME AND HAS AN ADJUSTABLE BOTTLE TRAY. IT CAN BE CONNECTED TO THE MANIFOLD/BUNKERLINE WITH HOSES. THIS SAMPLER CAN SAMPLE UNDER ALL CONDITIONS, EVEN DURING COLD WEATHER CONDITIONS AND WITH A VACUUM ON THE BUNKERLINE.
THE TROLLEY IS INCLUDED. THE PROBES ARE SOLD SEPARATELY AND ARE DESIGNED FOR EACH APPLICATION.
THE SAMPLER IS PNEUMATIC DRIVEN ONLY.
SPECIFICATION:
WORKING AIR PRESSURE: 6-8 BAR.
TIMER (BUNKER TIME): NORMAL 1 TO 16 HOURS
MATERIALS: STAINLESS STEEL AISI 316 CASE AND FITTINGS
AUTOMATIC STOP AFTER SAMPLING
FLUSHINGPROCEDURE
SIZE: 60x60x60 CM
WEIGHT: 35 KGS
FULFILS MARPOL ANNEX VI