Semi Automatic Fuelsampler FS2051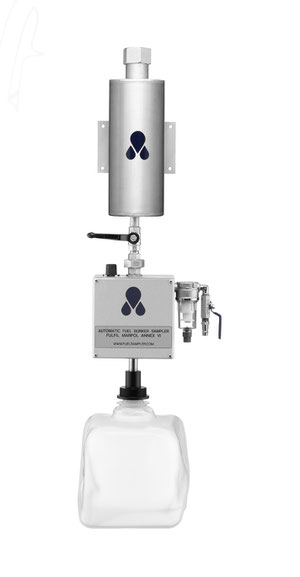 AUTOMATIC CONTINOUS DRIPSAMPLER MARPOL ANNEX VI
TYPE: MO 1051
THIS SAMPLER IS OUR SMALLEST SIMPLE SAMPLER WHICH CAN BE MOUNTED DIRECTLY ON THE MANIFOLD OR ON A DNV FLANGE WITHOUT ANY HOSES. THE SAMPLER IS HANGING ON THE PROBE AND CAN SAMPLE AUTOMATICALLY INTO ANY SIZE BOTTLE.
THE SAMPLER IS DELIVERED WITH A FLUSHING TANK WHICH IS DOCKING STATION AS WELL
THE SAMPLER IS PNEUMATICALLY DRIVEN ONLY.
SPECIFICATION:
WORKING AIR PRESSURE: 6-8 BAR.
TIMER (BUNKER TIME): NO LIMIT
MATERIALS: STAINLESS STEEL AISI 316 CASE AND FITTINGS
CONTINOUS DRIPSAMPLER
FLUSHING PROCEDURE
SIZE: 15x15x20 CM
WEIGHT: 5 KGS
FULFILS MARPOL ANNEX VI